Coming Up...
---
March Mayhem Tournament
The Calgary Recreational Dodgeball Association is hosting a tournament March 4th at St. Mary's School. Cost is $200 per team. If you haven't registered... CLICK HERE!
Quick Standings
---
Monday
Great Balls of Fire
Its A Trap!
Dodgy Tossers
---
Tuesday
League Champs
Wrecktangular Sharks
Dodger Moores
---
Wed Div 1
Destroyers
Havoc
Havoc K
---
Wed Div 2
Dodgy Tossers
Strikers
Dont Stop Ball-ieving
---
Tip of the Week
Signing up before Registration Closes will ensure you have a spot for this upcoming season.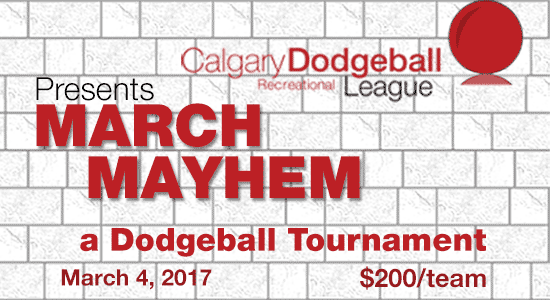 What's News
Hey Dodgeball Fans,
I hope you are all getting excited for our March Mayhem Tournament coming March 4th. Cost for the tournament is $200 per team. We are also excited to partner with Mill Street Brewpub who will be hosting a big after party. So if you haven't registered, do so now!
Happy Dodging!
February 20, 2017
---